Through our years of work guiding enterprises like Adidas and Shell in their own Cloud Native projects, we have developed a four-stage process—Think, Design, Build, Run—that helps organisations move through the Cloud Native transformation process.
Our process helps you:
Reduce risk. Attack the right problems from the start by uncovering what you need to create sustainable solutions and map your transformation path.
Take control. See constant progress and make adjustments whenever you need.
Gain independence. Your employees will learn from our experts throughout the process, building their skills and giving them more autonomy.
Deliver value—fast. Get ready in months, not years, to answer your customers' needs.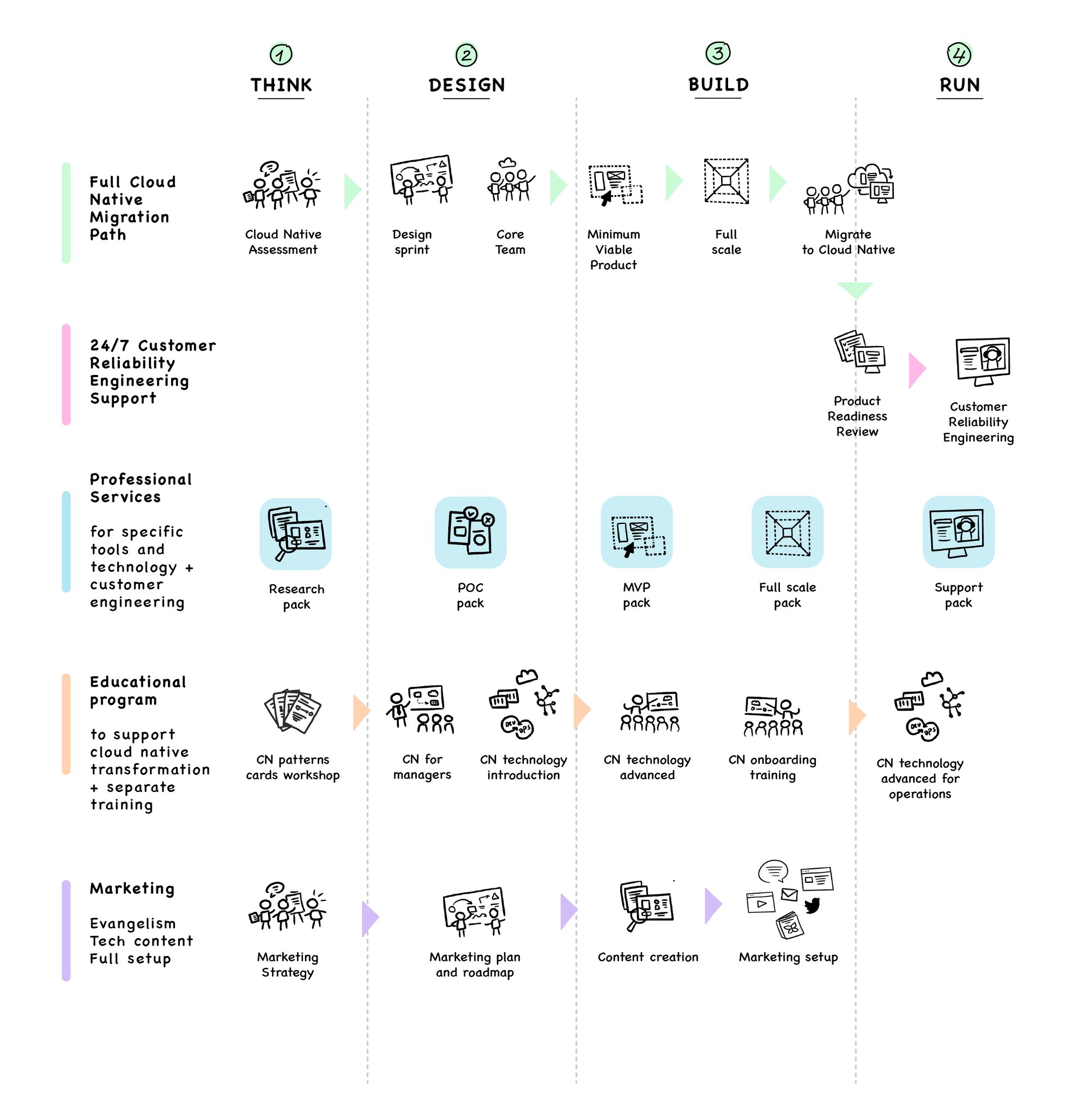 Here's how it works:
Think: Identify the Problem
Think is our research phase. Through workshops and interviews we are able to map your situation and set a strategy aligned with your business goals. A Cloud Native Assessment is a risk-free way to get started.
Design the Solution
We work with your engineers to run experiments that eliminate wrong choices and find the right solution. The things we learn will shape the creation of the new platform architecture and processes. We also start educating your teams and managers about Cloud Native technologies and concepts.
Build the Solution
This is when our teams and yours construct the new system. We also continue to build knowledge in your organisation with targeted education. A minimum viable product (MVP) application is deployed into production in as little as four months.
Run and Support the Solution
Now the new platform is ready for production. We prepare your teams to maintain and scale the new system on their own, or offer Customer Reliability Engineering (CRE), which provides 24/7 support.
Why You Need a Guide
Cloud Native technology can make your organisation move faster, but a Cloud Native transformation gets more complex as it goes. Many companies wind up wasting a lot of time, money, and staff resources in the meantime. Take a look at this blog post by our co-founder Pini Reznik on why going Cloud Native requires experimentation and moving stepwise in order to reduce risk.