How does it work?
You get a truly objective assessment of:
Your technical capabilities - readiness to adapt to change, skill gaps and system health

Your culture - does your culture invite innovative thinking? Is it one of safety, trust and experimentation?

Your organisational state - do your practices get in the way or do they allow you to act fast, adapt to change, get the most out of your technical capabilities and retain great teams?
These findings will help define your end-to-end transformation vision. Together, we create your guide towards Cloud Native maturity.
At the root of it all, we understand the cultural impact of this adoption on your organisation. This is how you retain and inspire excellent teams to support your ongoing changes and achieve business success.
The CNA Timeline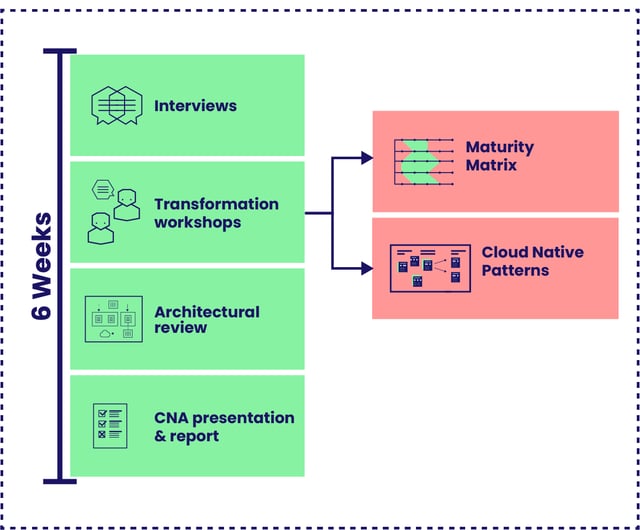 No two assessments are the same. After the initial workshop, everything is adapted to your organisation's challenges, goals and culture.
When we're done, you get:
A presentation outlining the high-level findings and recommendations for next steps towards Cloud Native maturity; steps that should result in quicker releases, better team communication, a more reliable platform and more psychological safety for your organisation to foster innovation.
A detailed report that will give you direction and an understanding of the next strategic, cultural and technical steps to take.
Readiness for the Design phase - this is where we eliminate risk, move fast and work towards defining an MVP (Minimum Viable Platform, Product, Pipeline or Process). This is the next phase of our proven and trusted TDBR methodology - specifically tailored according to your CNA outcome.
Readiness to move from Think to Design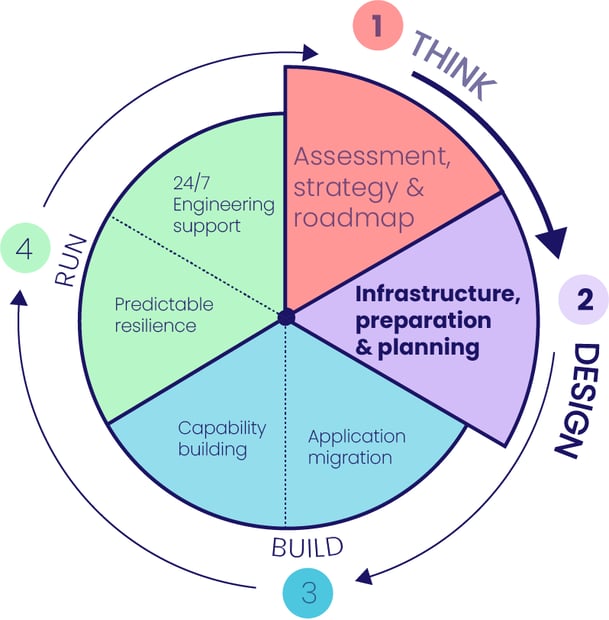 References: