Our three-day Cloud Native Assessment (CNA) is a no-risk, no-regret move that can tell you exactly where your organisation stands right now, in terms of not only its technology but also its processes and culture. It can give you valuable insight into exactly how vulnerable your business might be as competitors emerge —and which steps could make you more nimble, able to seize new opportunities, and deliver value to your customers faster.
A CNA maps your situation and reveals a path forward. Here's how it works.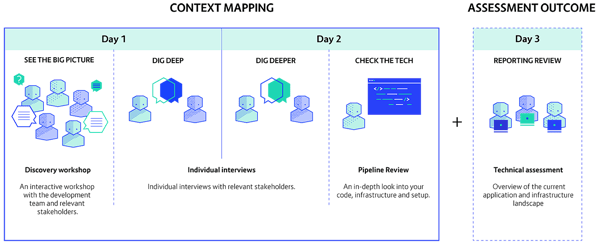 Through an interactive workshop with your teams, we get the big picture: Your goals, your structure, your process, and your challenges. Individual interviews with stakeholders from throughout your organisation, and a review of your software-development pipeline, help us drill down, gathering more details about your current status.
On day three of our Cloud Native Assessment, you will receive:
A presentation of the Assessment's results
A written report that lays out the findings and offers recommendations. This can help you build support within your organisation for next steps.
The Cloud Native Maturity Matrix. This one-page grid visualises your company's current status in nine categories—and identifies any gaps standing between you and Cloud Native.
A workshop on Cloud Native patterns. A hands-on, half-day session using the patterns featured in our book Cloud Native Transformation will spark internal discussions essential to your company's strategic planning.
What's a Maturity Matrix?
The Cloud Native Maturity Matrix is a tool we created to help our clients see exactly where they stand and where they need to go in order to become a fully Cloud Native organisation. Check out this blog post by our co-founder Pini Reznik to learn more about it.