Cloud Native is more than just a technology or toolset. It is a philosophical approach for building applications that take full advantage of cloud computing. This new paradigm requires not only embracing new technology but also a new way of working—which makes going Cloud Native an extensive undertaking. The payoff is immense, but in order to reach it, an organisation must evolve not just its tech stack but also its culture and processes.
Patterns for Success
Cloud Native systems are very new and innately complex. This means organisations that try moving to the cloud will likely fail to deliver even the table stakes of good system design: being stable, efficient, and fit for their purpose.
That's where patterns can help.
Based on our experience in helping enterprises move to the cloud, Container Solutions has devised a set of patterns that make it easier for developers, managers, and executives to discuss, learn, and apply the best practices in Cloud Native. These are high-level patterns for strategy and risk reduction, intended to guide decision making—patterns for transforming your organization and culture to this new way of thinking and working.
There is no one design that will work well in every circumstance, and so design patterns must be context-specific. Among the things you should consider:
Your teams' skill levels
Internal support for the project
The project's timeframe
Budgets
Your existing tools and infrastructure
Get a Deck of Inspiration
To help your organisation start thinking about its challenges and opportunities, order our Cloud Native Transformation cards. This deck of cards, a €60 value offered for €30, comes with instructions on how to use them and features many of the patterns you'll find in Container Solutions' new book, 'Cloud Native Transformation: Practical Patterns for Innovation', published by O'Reilly.
Fill in the form and get your deck of cards now.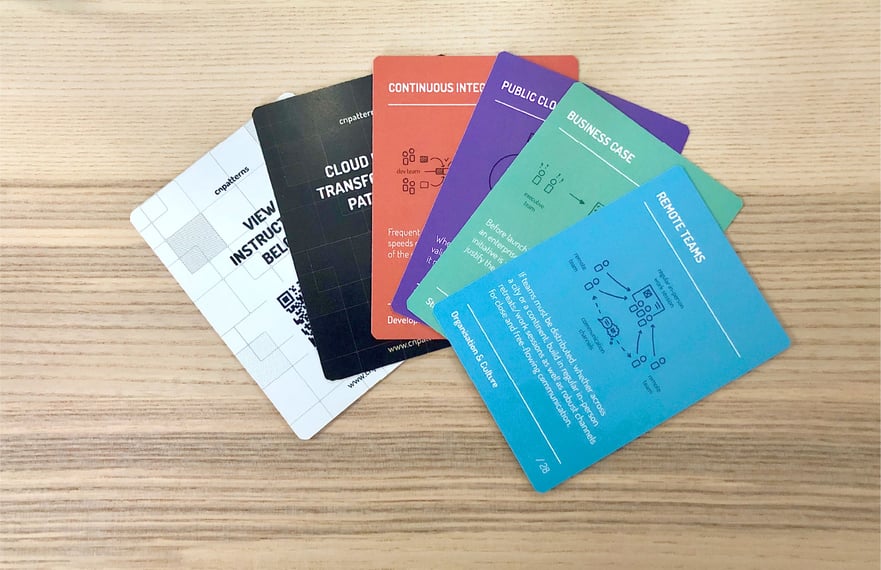 Plus: Get a free excerpt from our 'Cloud Native Transformation: Practical Patterns for Innovation' book here.